Web Application Development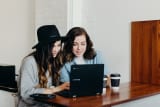 At Make IT Simple, web applications make us giddy.
In fact, they're the first thing we started with when we set up the company 15 years ago!
During those years, we've noticed a lot of people have been confused about the difference between a web application and a website.
While a website is a set of web pages that live within a single domain name, a web application is a program that uses web browsers and technology to enable you to complete tasks and activities on the internet. Think social media platforms like Facebook and Twitter, for example.
Why are web applications beneficial?
So, why go for a web application instead of a traditional website – especially if it's more work? Well, quite simply, because of that additional work, you'll end up with a better product for your business.
To make it easier to understand, think of web applications the same way you would with a desktop application. But, instead of it only working on your computer, it works online in a web browser.
Because of that, web applications are typically consistent for every user, and any updates that need to be rolled out can be done quickly and effectively.
As a bonus, because the majority of people now surf the Internet on their phone through their favourite browsers, your web app could be in the hands (or pockets) of millions of people across the globe to access at any time!
Learn more about web application development in detail by reading our blog…
…And why should you choose Make IT Simple to design and build your web app?
In a nutshell, we've been working in web application development for over a decade and a half, and employ only the most talented and skilled developers to get the job done. There's no room for error at Make IT Simple!
What's more, it'll never just be a case of "leave it with us" when it comes to the design and build process. Our experts will be by your side every step of the way, ensuring that we bring your vision wholly to life, and in a way that your web app users will absolutely love!
Don't believe it? Be sure to check out our portfolio of previous work!